Vaporesso Gen 80S Kit
An electronic cigarette intended for all types of vapers
Vaporesso's Gen 80S kit, a great all-in-one kit for beginners!
There is nothing that the Gen 80S kit cannot do. Whether you are a beginner or an experienced user, this electronic cigarette promises a great vaping experience. It's lightweight, compact, and handy, all while being powerful, safe, and intuitive!
You will find the famous Gen mod and its various vaping modes in this kit, along with the 5ml iTank clearomizer, designed for cloud-chasing enthusiasts.
A great kit for your vaping sessions!
The Gen 80S kit will please beginners and experts alike, as it's very versatile!
You will appreciate its compact size and toughness. It's only 140.5mm high, 25.5mm wide and 34mm deep! You will love its straightforward and responsive mod (which can go up to 80 watts using a single 18650 battery), as well as its clearomizer, which produces great flavors and vapor.
To summarise, you'll be enjoying a prestigious vape without any headaches!

Vaporesso's Gen 80S kit
The mini Gen mod
Vaporesso's Gen 80s mod works with just one 18650 battery (sold separately). Thus, it's smaller and lighter. Moreover, it's made from rubber, metal, and polycarbonate, making it very robust indeed!
Thanks to its Axon chipset, it can reach a maximum power of 80 watts, and you'll be able to vape however you wish, thanks to its multitude of vaping modes and settings!
A powerful and intuitive mod, thanks to the Axon chipset!
Whether you're a beginner or a more experienced vaper, the Gen 80S mod is easy to set up. This electronic mod is equipped with Vaporesso's Axon chipset, and you'll enjoy up to 80w of power, regardless of which vaping mode you select:
F(t) mode: the mod's default mode with Temperature Control
PUL (or pulse) mode: lets you adjust the mouthfeel of each puff thanks to its power curve system!
DIY mode: includes the standard modes found on electronic mods, such as Variable Wattage, Variable Voltage, and Bypass. In Variable Wattage mode, you can even select an intensity level, either Soft, Medium or Hard
VWN mode: the standard power mode that lets you manually set the wattage you desire.
In addition to its Setting mode that lets you configure the mod's parameters, the Gen 80S has a beautiful 0.96 inch TFT screen, three adjustment buttons, and the firing switch, of course!

The display screen of Vaporesso's Gen 80S kit
The Gen mod, but with a single 18650 battery 
Vaporesso's Gen 80S mod may be small but it's still powerful, capable of lasting a good while and reaching 80 watts of power, thanks to its single 18650 battery (not included).
Remove the magnetized rear panel to insert or remove the battery.

The single battery compartment of Vaporesso's Gen 80S kit
An emergency USB-C port for a quick recharge!
If you've forgotten to charge your battery before leaving the house, you can use the USB-C port instead. It's located on the mod's front panel.
The port's 5V/2A charge will quickly charge your device. However, we do recommend using a dedicated external charger (sold separately) when possible, as they'll preserve your batteries.
A USB-C cable is included in the kit.

The USB-C port of Vaporesso's Gen 80S kit
The 25mm iTank clearomizer and its 5ml tank
Which clearomizer would be better than the iTank for the Gen 80S mod, also made by Vaporesso? Here, you're dealing with the version that's 25mm wide and fitted with a 5ml tank.
It's ideal for those who want big clouds of vapor with a good flavor rendition. Indeed, the iTank clearomizer works with the manufacturer's GTi coils, allows you to precisely adjust the draw thanks to its airflow ring, and has a handy top-fill tank!

The iTank clearomizer of Vaporesso's Gen 80S kit
Two GTi Mesh coils that combine flavors and vapor!
You'll need a coil inside the iTank clearomizer if you want to vape. More specifically, you'll need Vaporesso's GTi Mesh coils.
Two of them are included in the kit:
One 0.2 ohm GTi Mesh coil, to be used between 60 and 75 watts
One 0.4 ohm GTi Mesh coil, to be used between 50 and 60 watts

The two GTi coils of Vaporesso's Gen 80S kit
To install your coil, you must:
Remove the lower part of the clearomizer (where the air intake is) from the tank
If necessary, pull out the old coil
Put a new coil in its place, making sure to soak it with a few drops of e-liquid beforehand
Put all the pieces back together
Fill the tank

Exploded view of the iTank clearomizer that comes in Vaporesso's Gen 80S kit
Plenty of vapor ahead!
The iTank's air intakes are clearly built to produce lots of vapor. You can adjust the draw, though, by turning the clearomiser's airflow ring.
Depending on the airflow you choose, you can enjoy a direct inhale (DTL) with thick clouds of vapor, or a more moderate vapor with a restrictive direct inhale (RDL).
Note that the 510 drip tip is wide enough to allow for either type of vaping.

The air intakes of the iTank clearomizer
A Pyrex tank of 5ml that's easily filled
The iTank clearomizer is fitted with a 5ml Pyrex tank, which will hold a fair amount of e-liquid and keep you going for hours.
To fill the tank, you just have to push the clearomizer's top cap outwards. This reveals a small well where you'll insert your bottle of e-liquid. After doing so, wait for about ten minutes so that the coil can soak up enough e-liquid.
Never fill the tank to the brim. To prevent any leaks or spills, we recommend you close the air intake before filling the tank with e-liquid.

Filling the iTank clearomizer
Contents
the Gen 80S mod
the iTank clearomizer of 5ml
a spare Pyrex tank
one 0.2Ω GTi Mesh coil
one 0.4Ω GTi Mesh coil
a set of spare parts
a USB-C cable
a user guide
The Gen 80S kit is manufactured by Vaporesso.

The contents of Vaporesso's Gen 80S kit
Characteristics
| | |
| --- | --- |
| Diameter | 25mm |
| Maximum power | 80w |
| Volume | 5ml |
| Battery type | 18650 x1 |
| Height | 140.5mm |
| Material | Polycarbonate |
| Width | 25.5mm |
| Depth | 34mm |
| Mod type | Box |
| Batteries included | No |
| Mod type | Electronic |
| USB charging | Yes |
| Chipset | Axon Chip |
| Chipset version | Vaporesso |
| Compatible coils | GTi coils |
| Tank | Pyrex |
| Fill type | From above |
| Drip-tip | 510 |
| Connector pin | 510 |
OUR CUSTOMERS' QUESTIONS ABOUT THE PRODUCT
No questions for the moment
Your question has been successfully sent to our team. Thank you!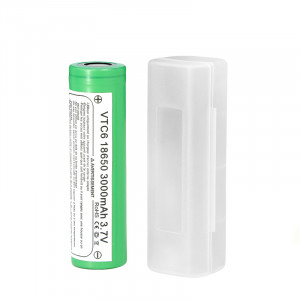 Choice of the team
One of the best 3,000mAh 18650 batteries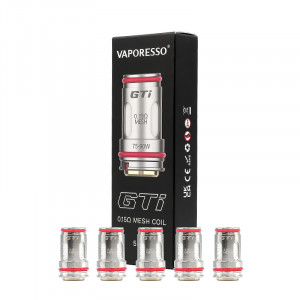 New coils for your iTank or your Target 200 kit